Speech
synthesizer
for
the
mobility
impaired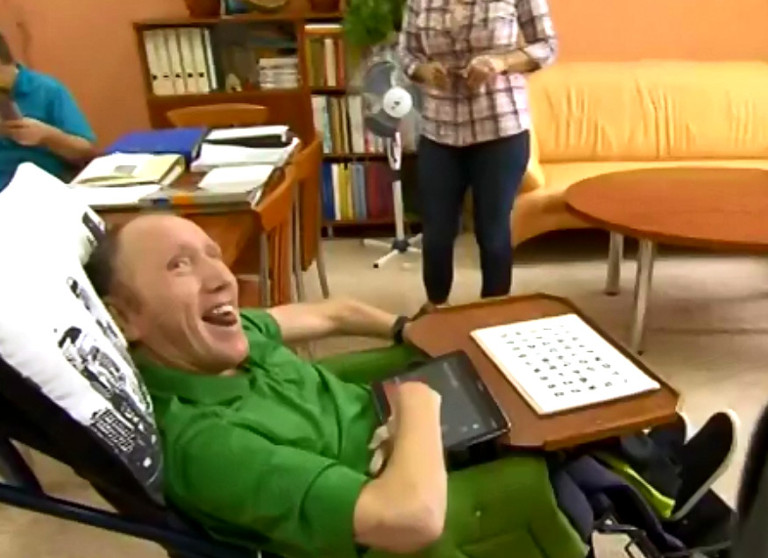 The project is a specially adapted tablet with software that allows people with mobility disabilities to communicate with the world. The application uses artificial intelligence to generate speech based on a set of symbols chosen by the user. Symbols are selected using a touch screen or external Bluetooth device to facilitate information entry for people with various disabilities. The project was implemented in the Social Assistance Center in Białystok and was tested on people with partial and complete physical disabilities and on people with ASD.
The application enables communication between non-speaking people and the external environment. The program can be installed on any tablet or smartphone. With its help, we can enter any messages that will be spoken by the speech synthesizer. We save messages in drawers for future use without re-entering the text.

The artificial intelligence in the application suggests words, speeding up the process of entering text. It is possible to attach a personalized speech synthesizer, which allows you to generate (imitate) the speech of a selected person - for example, the former voice of a person who can no longer speak and currently uses the application. This functionality, however, requires prior teaching of the artificial neural network based on old voice recordings and connection with the computing cloud. In the basic version, the program uses IVONA text-to-speech, which does not have these limitations.

We install the program on any tablet or smartphone. We can use it in 2 modes - with a virtual on-screen keyboard and an external keyboard or other controlling device, connected via a special USB adapter to a smartphone or tablet.
About my project: